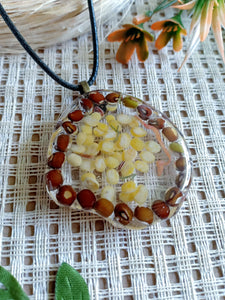 Presenting "Wholesome", an understated statement piece, from our exclusive handcrafted Limited Edition Flower & Spice pendant Necklace Collection, made with Dried Flowers, Exotic Spices and Seeds.
This comes threaded through a durable, waxed, cord that sits well on the neck without hurting the skin. Given the subtle neutral spice colours, this unique accessory from the 17th Art Street Studio will add just the apt amount of a conversational accent to an otherwise simple outfit.
This one-off collectible keepsake would also make as the choicest gift for your loved ones that they shall cherish for long...

(Read the making story, Flower & Spice - The Making, in our Studio Diaries Section)
Specifications: Pendant Size 4.5 x 4 cms. Necklace Length 8.5" (excl. pendant) extendable by 2" 
These have a beautiful 'Glass-like' finish, though, these are much more resilient than glass accessories and almost unbreakable, so you could adorn these more often and more comfortably without much worry about accidental damage to our favourite pieces. 
NOTE: This collection has few pieces that have both flowers and spices, and few with either of the two. This discretion was purely a creative call at the time of conceiving the look and feel of the collection :)